SC-90 AUTOMATIC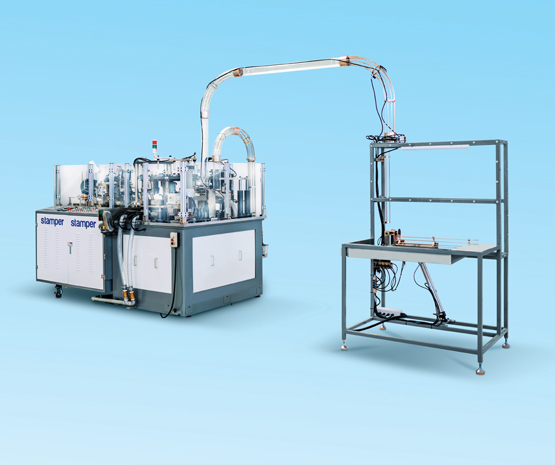 SC-90 Automatic Machine Benefits:
1. Distinguish problems is easier with cam systems and detecting elements.
2. High speed and low noise.
3. Systems for decrease leakage.
4. Strong and quality materials.
5. Machine is fully equipped with safety elements.
Parameters of Technical Specifications:

Size of Cups

Top Diameter: 60 mm (min) - 115 mm (max)

Bottom Diameter: 40 mm (min) - 85 mm (max)

Height: 50 mm (min) - 180mm (max)

Configuration

Ultrasonic and Hot Air System

Measurement(L*W*H)

2500 mm* 1800 mm* 1700 mm

Measurement of Cup Collector
Electrical Parts:

Contactor/Button/Thermal Protector

Inspection system/Photo electrical

Temperature Controller/Encoder
SC-90 AUTOMATIC
PAPER CUP MACHINE
SC-90 is used with two cam systems, this design can let the top curling and bottom curling more accuracy, stable and low noise. Before set up on the machine, our factory will test running one week to ensure each bearing at the suitable station. Gear drives ensure the machine to work with high speed with low noise. 2 set of hot air systems can decrease the rate of leakage. The oil circuit adds clear the oil and filtering system to clean the oil automatically we are using double layer plate to avoid the scraps of paper into the machine's inside. Each Production step have camera any step have problem will be showed on PLC.
Tags

Paper Cup Machine, Automatic Paper Cup Machine, Paper Plate Making Machine