SC-600H PAPER CUP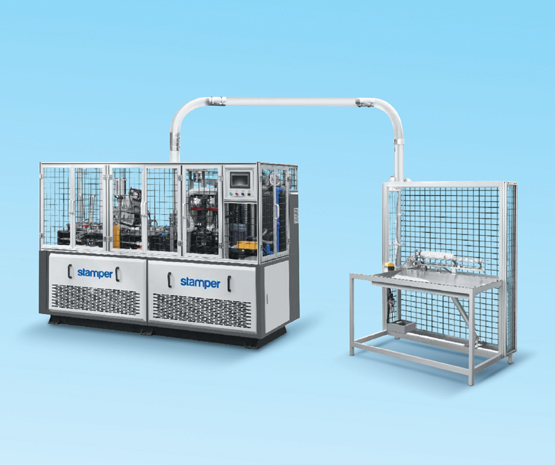 SC-600H Automatic Machine Benefits:
1. The machine adopts open cam type structure, high precision, large out-put and long life.
2. Whole machine is box type structures design, filling oil by spray lubrication system so the machine can run fast and stably.
3. Photoelectric failure-detecting system is available. PLC control system for the whole cup forming process.
4. Servo control to send bottom paper of cup, deliver bottom when cup tube come, otherwise no bottom delivery.
5. Stretch knife uses for bottom cutting. Easy changed and more stable.
Parameters of Technical Specifications:

Size of Cups

Top Diameter: 55 mm (min) - 85 mm (max)

Bottom Diameter: 55 mm (min) - 70 mm (max)

Height: 60mm (min) - 135 mm (max)

Material

150 - 350 gsm single/double PE coated paper

Speed

60 - 85 pcs/min (for handle max is 70pcs/min)

Measurement (L*W*H)

2800 mm* 1300 mm* 1850 mm
Main Parts:

Knurling and Bottom motor
SC-600H PAPER CUP
with HANDLE MACHINE
SC-600H is able to make single and double PE coated beverage, ice cream cups, coffee cups, bubble tea cups and more. In addition to that, this integrated automatic paper forming machine combines all these processing procedures together: paper feeding, sealing, bottom cutting, lubricating, heating, knurling, curling and collecting. Outfitted with a handle applicator, this product completes the handle cutting and sealing automatically. It will save you a lot on time and man power
Tags

SC600H, Paper Cup Machine, Automatic Paper Cup Machine, Paper Plate Making Machine, Handle
WATCH